Summer GPU Wars
New graphics cards are coming!
As we've seen the dual GPU graphics cards of the current generation in the ATI HD 3870X2 and the nVidia 9800GX2, it time for the marketing companies to kick into overdrive and start hyping their technilogy. Both ATI and nVidia will be releasing new graphics cards in the coming months and forums across the internet are already buzzing with anticipation as to what is instore for us.
nVidia have announced that they will be using a new naming scheme [Ed: Can't be worse than the old one!] for the next-gen cards. So far, we have details of a nVidia Geforce GTX 260 and a GTX 280.
nVidia GeForce GTX 280
65nm process
602MHz core
1296MHz shader
1107MHz memory
240 stream processors
512-bit memory interface
1024MB GDDR3 memory
$649
nVidia GeForce GTX 260
65nm process
576MHz core
999MHz shader
896MHz memory
192 steam processors
448-bit memory interface
896MB GDDR3 memory
$449
So apart from the name change, how do we know these are completely new cards? The larger memory interface and extra stream processors give it away, but the lower core clock speeds indicate a brand new architecture. We can expect a dual-GPU card in the future after a die shrink (like G92), but at the moment we just have big single GPU cards, which will please a lot of people. Just how good these cards are is still a mystery, but be sure that when the first trustworth benchmarks appear, you'll know.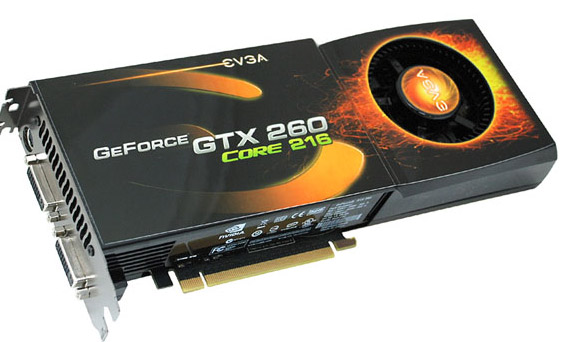 As for ATI, they've gone down a very different path. Clock speeds are still to be officialy announced, but we have a good idea of how the cards will shape up. Following on from the HD 3000 series cards, we will see a HD 4850, a HD 4870 and a HD 4870X2. These graphics cards should start showing upvery shortly, and are intended to beat nVidia's current G92 crop of cards.
ATI HD 4870X2
55nm process
TBD core/shader/memory
960 stream processors
256-bit memory interface
1024MB GDDR5 memory
$499?
ATI HD 4870X2
55nm process
TBD core/shader/memory
480 stream processors
256-bit memory interface
512MB GDDR5 memory
$299?
ATI HD 4850
55nm process
TBD core/shader/memory
480 stream processors
256-bit memory interface
512MB GDDR3 memory
$249?
Note the GDDR5 memory featured on the HD 4870 cards. Qimonda have been tasked with supplying the GDDR5 required for these cards, and with the cheaper to produce 256-bit bus remaining on the cards, the GDDR5 will provide the required bandwidth.
ATI also have the trump card of supporting DX10.1 whereas nVidia, even with its new archtecture still lacks it. While DX10.1 isn't implemented in any games yet, the brief demo we saw in Assassin's Creed gives us hope that ATI might receive a welcome boost in performance when it does become mainstream. It's a shame that nVidia's lack of support for DX10.1 seems to be holding game devs back from implementing it.
From the looks of the specifications, they would appear to more of an evolutionary rather than a revolutionary update to the HD 3000 series. I've no problem with this if ATI can keep this up on a more regular timeframe and gradually regain the lost ground to nVidia.
The summer GPU wars are awaiting. Which side do you think will do best? What card takes your fancy? As always, head over into our forums and discuss!